I, Mark Keane, feel very privileged to be part of a 'Flash Mob' Meditation synchronised with World Peace day on September 22nd 2014…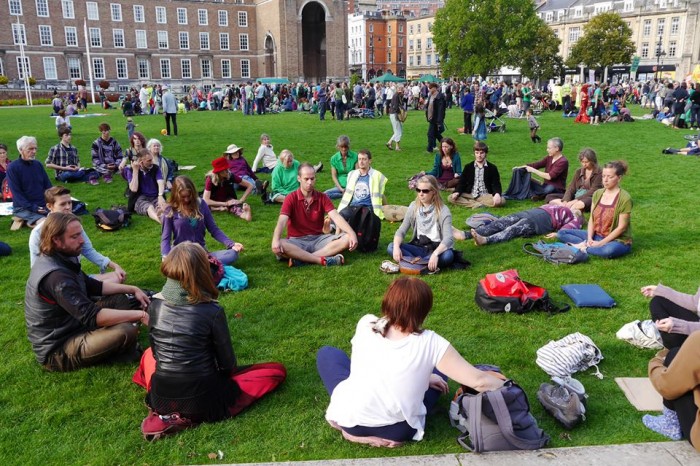 I was asked by an Environment Agency colleague, and fellow meditator, Mark Wilkinson, if I would help organise it, and I immediately accepted the challenge.
As fate would have it, we soon learnt that a huge global climate change protest was happening on the same day, and Bristol was no exception. Incredibly they had decided to march through Bristol and arrive at College Green, (in front of the Cathedral, and Bristol City Hall) at exactly the same time as we had planned to meditate, at 4pm.
We decided we would go ahead, as this synchronicity was far too great too ignore.
It occurred to me, the reason this happened, is because we recognise for the world to change, then people have to change. The only way people will change is for their level of conscious awareness to change. Essentially, as Eckhart Tolle says,
"Are you polluting the world or cleaning up the mess? You are responsible for your inner space; nobody else is, just as you are responsible for the planet. As within, so without: If humans clear inner pollution, then they will also cease to create outer pollution"
So appealing to Governments to change is one thing, but can we really expect a system to support change, when it has so much invested in preserving the status quo?
What is really needed is a complete revolution in the collective consciousness in humanity. This is why I believe World Peace Day is even more important that a climate change march, although they are both intimately, and directly connected.
Real change, even collectively, can only really come from within. For the planet's destruction to be curbed, people must realise that by damaging the Earth, we are damaging ourselves. We are sealing our own demise, by biting the hand that feeds us. We must not only see this intellectually, we must feel this, feel in our hearts that we are not only reliant on nature, but connected to nature…WE ARE NATURE. Our bodies are made of the Earth, sustained by the Earth, and will eventually die back into the Earth. We must rekindle our deep respect, reverence and celebration of all nature, and her cycles if we are to restore balance to this planet, and to our split psyches.
So whilst the masses were appealing to the state, I felt very honoured to be sitting quietly, and holding space for their sentiments for change. By doing this, I believe the 40 or 50 people that came together, to bear silent witness for change without judgement, had as much effect, if not more effect than the thousands who came to shout about it.
There is no doubt, that if every man, woman, and child took time out of every single day to meditate, then the world would change. It would change at such a rate that we would be astounded by the peace and beauty that we would have co-created. Let that be our goal then. Meditation is the answer to everything, for it brings inner peace, and it causes us to spread peace, and to see events and people peacefully. Peace is the most powerful force in the universe, we just have to take a stand and believe in peace, and not the addiction to inner, and outer conflict, and the destruction it causes.
The revolution will not be televised, for it is happening within, and it is happening RIGHT NOW!
May Peace Prevail On Earth.